There is a new name in lawn care serving Fuquay-Varina and they are busy providing free estimates and educating their new potential customers on how to properly care for their lawn and landscape.
We hope you have great expectations for your lawn care service, but if you don't, welcome to Great Expectations Lawn and Landscape!
Joe Brown is the owner and although his lawn care company is new to Fuquay-Varina, Joe has been in the lawn care industry for over a decade.
Experience Matters When Caring For Lawns
As with anything else, the more you do something, the better you get.  That is why you don't want a crew of rookie lawn care employees in charge of your lawn care!
Your home is a significant investment.  Caring for and maintaining your lawn is a great way to protect that investment.  This applies to new homes too like those found in the North Lakes Community.
Joe brings 10+ years of lawn care experience to your lawn with every service they perform.  The interesting thing to know about Joe is that his 1st lawn care business was located in Illinois.  When his family relocated to Fuquay-Varina for work, Joe had no intentions of not continuing to care for the lawns in his local community.  He quickly got the proper licensing needs to operate legitimately and began attracting his 1st clients in his new North Carolina home.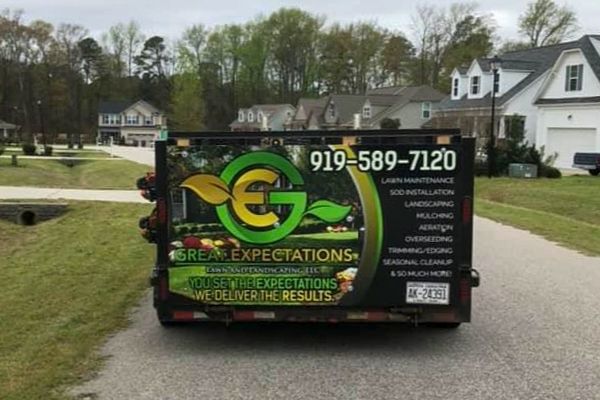 Expert Lawn Care Knowledge Saves Homeowners Thousands
There is nothing worse than dumping hundreds or thousands of dollars into something to find out that it wasn't done the right way or the wrong materials were used.
If you are trusting your lawn care company to provide you with valuable advice, you should probably ensure the person at that company giving you that advice is a true lawn care expert!
You would be surprised how many 'lawn care companies' are started by someone who liked the physical aspect of it and was captivated by the lure of 'being their own boss.'  We love and hate how easy it is for anyone to 'start a lawn care company.'  It's great because if taken seriously, anyone can create a very nice living for themselves and provide value to their local community at the same time.  It's not so great, because people that probably should be giving lawn care advice are by default considered 'experts' because of their self-created job title!
Get Ready For A Unique Lawn Care Experience
Joe Brown with Great Expectations Lawn and Landscape is the real deal!  Not only has he taken the time to learn all about the plants, grass types, and best practices of how to provide the best lawn care in Fuquay-Varina and nearby, he brought with him all of the knowledge accumulated over the years running his 1st lawn care business in the Midwest.  Joe truly has knowledge various types of lawns and landscapes that few other people in the world do.
Not to mention, Joe is a smart guy and as hard-working as they come.  He's personably and will shoot you straight.  I guarantee it!
Early Birds Request Your Lawn Care Quote
Joe is ready to talk about your lawn care needs whenever you'd like to chat.
Lawn care quotes from Joe and Great Expectations Lawn and Landscape come fast and free so request yours today so you know what the cost of your lawn care services will be if you do decide to sign up.  Don't forget Joe is happy to answer any and all of the questions you have related to your lawn and landscape while providing you with a quote.