Great question.
We'll quickly provide you with some things to think about if you are wondering if you should aerate your lawn in the spring.
Benefits of aerating your lawn in the spring
The spring is a great time to aerate your lawn in North Carolina.
The reason spring is a great time in North Carolina is that this is when the grass is most vigorously growing.  Aerating provides the most value if the grass is actively growing.
The reason behind this is that core aerating produces thousands of holes in your lawn's soil surface.  These holes allow the soil to de-compact.  The root system of the grass can more easily expand.  The more extensive your lawn's root system is, the better your lawn will look on top!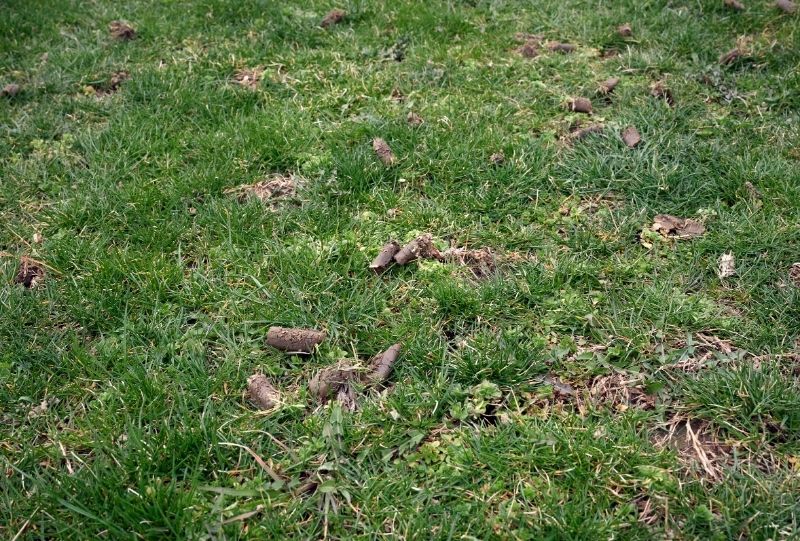 Aerating Revitalizes Lawns
The image above is a perfect example of a lawn that needed to be aerated!  Aerating encourages the lawn to fill in thin or bare spots.  If you have a lot of thin or bare spots in your lawn, we definitely recommend to overseed immediately after the core aeration is performed.
Overseeding is simply the process of spreading more grass seed over an existing plot of grass.  Please note, this will eliminate the possibility to use pre-emergent weed control if done in the spring.  Consider aerating again in the fall and overseeding then if you really need to fill in thin or bare spots.
Even without sowing new grass seed after the aerating service, your lawn will be better prepared to deal with drought, disease, fungi, and more.
Late-March through Mid-May
Specifically late-March through mid-May is an ideal date range to have a core aeration performed.
We say 'to have a core aeration performed' because aerating your lawn is something most homeowners should hire help to do.  Spike aerating is another type of 'aeration' that can be done to lawns, but it is not nearly as beneficial as a core aeration.
Most homeowners may want to hire a lawn service to perform their aeration because of a couple of reasons.  The first being the equipment is large, heavy, and physically taxing to operate.  It can cause serious damage to cars, fences, siding, and more if it gets out of control.
Also, you will need a trailer to transport the aerator from the tool rental facility.  After you add up the cost of renting the aerator and time picking it up and taking it back, plus the time aerating your lawn, it very well could be more cost-effective to hire a professional lawn service to do this for you!
We're scheduling spring lawn aerations
Great Expectations Lawn and Landscape is always able to schedule jobs in advance.
We are currently booking spring lawn aerations in 2021 in Fuquay-Varina and nearby.  If you'd like to get a free estimate and/or on our schedule, please request your quote now!
If you have any questions about aerating or want to add overseeding to your spring aeration, let us know when you contact us.
We can't wait to start caring for your lawn!